Jun 28th, 2017
|
We are very please and excited to announce the release of our new recording "Pride of Performance".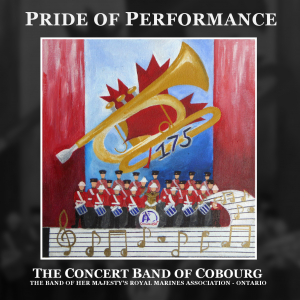 The release will take place on Tuesday July 4th, 2017 at 8:00pm at our first concert of the 2017 Summer Season in Victoria Park Bandshell, Cobourg.
While Canada is preparing to celebrate its 150th birthday, The Concert Band of Cobourg is celebrating 175 years of bringing music to the Town of Cobourg.
The Band is a rich part of our everyday life and we chose this opportunity to honour the many great musicians, composers, and arrangers who live among us and who contribute so much to our community.  Every song on this special CD represents either an original arrangement or an original musical creation from one of our talented local contributors.  Each of them has made it possible for the Band to share our music and to feature many soloists from within our ranks. The Band motto is "Pride of Performance" and we hope you share the pride we all have in Cobourg and in the many skilled and generous people who make this such a special part of Canada.
Thanks to Cobourg 2017 for their financial support and for helping to make this CD possible.
CD's will be available for purchase at a cost of $20.00 ea.