Nov 1st, 2017
|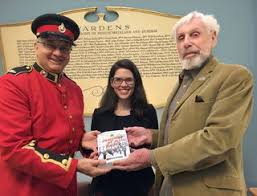 Brian Clarkson (left), president of the Concert Band of Cobourg, and author Robert Irvine present a copy of the book Journal of a Band to Northumberland County Records and Archival Services Coordinator Abigail Miller on Oct. 23.
The book is the history of the band from 1842 to 2007.  Irvine said the project took more than a decade to complete.
Irvine has been a part of the arts community in Cobourg for more than 70 years, starting as an 11-year-old member of the Junior Cobourg Kiltie band in 1944.
The book can be purchased for $35.00 CDN by contacting us at cbcrmab@cogeco.net