Directors
Director of Music – Paul Storms
Paul Storms has been actively involved with all aspects of music for most of his life. Paul joined the Concert Band in 1980 as a young cornet player and over the years graduated to the chair of principal cornet. He has also been involved with musical productions of the Northumberland Players over the last 30 years in both the positions of musician and orchestra conductor. In 2000, Paul was appointed Director of Music following the retirement of Roland White.
Paul brings a rich enthusiasm to his role as Director of Music.  His skill and commitment bring out the best in our players and his positive attitude makes rehearsing a pleasure.  By challenging our ability and allowing us to grow as a band, he has brought a much more meaningful sense of excellence to our musical community.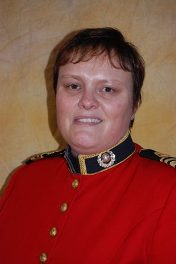 Deputy Director of Music – Jill Baker
Jill began playing cornet with the band in the early 90's after being invited by her high school music teacher, Keith Nicholas.
She studied music education at the University of Western Ontario and spent two summers playing on Parliament Hill with the Ceremonial Guard. Over the years she has loved performing with both the VOS and the Northumberland Players as musician and orchestral conductor.
She lives in Bowmanville and teaches at an elementary school in Ajax.
In 2004 she joined the percussion section and in 2011, helped in the band library and was honoured to accept the position of Deputy Director of music.
She enjoys working with Paul, Emma and all the amazing members of the Concert Band of Cobourg to create great concerts for our audiences.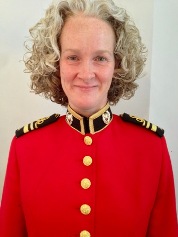 Deputy Director of Music – Emma Crawford
For Emma, membership in the Concert Band of Cobourg is a family tradition. Her Dad started playing trombone with the band in 1972. Choosing to play cornet like her brother, Emma's first teacher was DOM Emeritus Roland White. Emma joined the band in the mid 80's and continued her studies on trumpet at Queen's University, receiving her B.Mus. and B.Ed. She taught high school music for many years with the Halton DSB, directing large ensembles in a busy band program. Today, Emma is thrilled to be teaching music at Trinity College Junior School. Her over 30-year membership in this band continues to ignite her passion for music and for conducting. She was honoured to be appointed deputy director in 2011 and is enjoying her musical role in the euphonium section. She is so happy to be a part of this wonderful band family.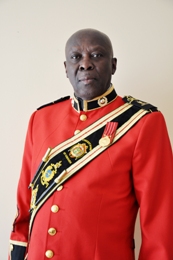 Drum Major – Colin Rowe
Colin is a 15-year Veteran of the Canadian Armed Forces, who retired in 2002 from his position as trombonist and Drum Major of the Regimental Band of the Governor General's Horse Guards, Canada's senior militia regiment. During his tenure with the Regimental Band, he made appearances at the International Music festival in Quebec, Sunset Ceremony at Fort Henry, annual Military Tattoo at the Canadian National Exhibition and the Reserve 2000 Tattoo at Maple Leaf Gardens in 1997. Colin is a graduate of the Humber College Jazz studies program having majored in arranging and Jass composition. His appointment as Drum Major of The Band of Her Majesty's Royal Marine Association is his second tour of duty, having played with the band under the baton or Bandmaster Roly White from 1976 to 1980.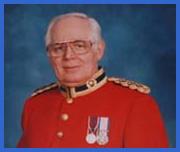 Director of Music Emeritus – Roland White
Roland White was born in Kent, England, and began his musical career playing cornet in the Salvation Army. Later he switched to trombone and in 1946 he joined The Royal Marines Band Service where he studied under Lt. Col. Sir F. Vivian Dunn. He served twelve years in the Marines as a member of Her Majesty's Royal Marines Staff Band, Portsmouth, the band that served aboard the Royal Yacht Brittania. During his time with the Staff Band, Mr. White toured throughout the world and performed under the batons of such notable conductors as Sir Malcolm Sargent and Sir John Barbarolli.
Following his military service, Mr. White emigrated with his family, first to Australia, and then in 1968 to Canada. Living near Cobourg, Ontario, he accepted the position of Director of Music of the then struggling Cobourg Band in 1970 and began the task of rebuilding the band to the standard that it now displays.
Mr. White retired in 2000 with the title Director of Music Emeritus, after 30 years of dedicated service.